_________________________________________________________________
Guitar Amp, Cabinet, & Stompbox Suite
Platform: PC, Linux
Format: VST
Price: FREE!
_________________________________________________________________
Fretted Synth Audio's collection of amps, cabs, and stompboxes is by far the most full-featured free guitar rig plug-in made! This earns it a place among the VST Discovery "STUDIO ESSENTIALS SERIES" collection of must-have software. The "STUDIO ESSENTIALS SERIES" lets you know that if I needed to start a studio from scratch today and chose to use only free music software, these would be the choices that would serve as the foundation of the studio. They will cover every major category of music creation software that you could need. Of course most people will have some sort of mix of commercially released and freely released software, so these tools are just as useful for augmenting what you already own.

FreeAmp has been constantly updated and improved, and has matured into a highly impressive guitar plug-in suite. And because of it's passionate and busy developer, the future is even brighter for FreeAmp! Sure, you can pay hundreds of dollars for IK Multimedia Amplitube ($399) or Native Instruments Guitar Rig ($299), but why not give Fretted Synth Audio FreeAmp 3 ($0) a try before you do? You just might end up settling into it as your main guitar plug-in suite! Or if you do choose to go for broke, FreeAmp will at least have a unique sound that can fill a hole nothing else can. The more sonic possibilities, the better, right? I know I wouldn't mind having twice as many hardware amps at my beck and call!
Includes Guitsyn, a built-in guitar synth!
Seven amp models.
Drive pedal complete with seven types of overdrive.
Seven EQs, and all have there own controls for side by side comparisons.
Six speakers, all of which may be bypassed to use amp or FX only.
Adjustable microphone placement for real tone shaping.
Separate MIDI volume control, can be placed pre or post amp.
Wah can operate by either MIDI guitar pedal, keyboard CC, or automatically.
Two compressors (pre and post amp), Chorus, Flanger, Phase Shifter, Delay, Reverb, Noise Gate, Tremelo, Pitch Shifter Wah-Wah ...
Host Sync and Tap Tempo for Tremolo and Delay
Triangle and square waves for modulation FX
Ready to play - complete with 128 factory presets!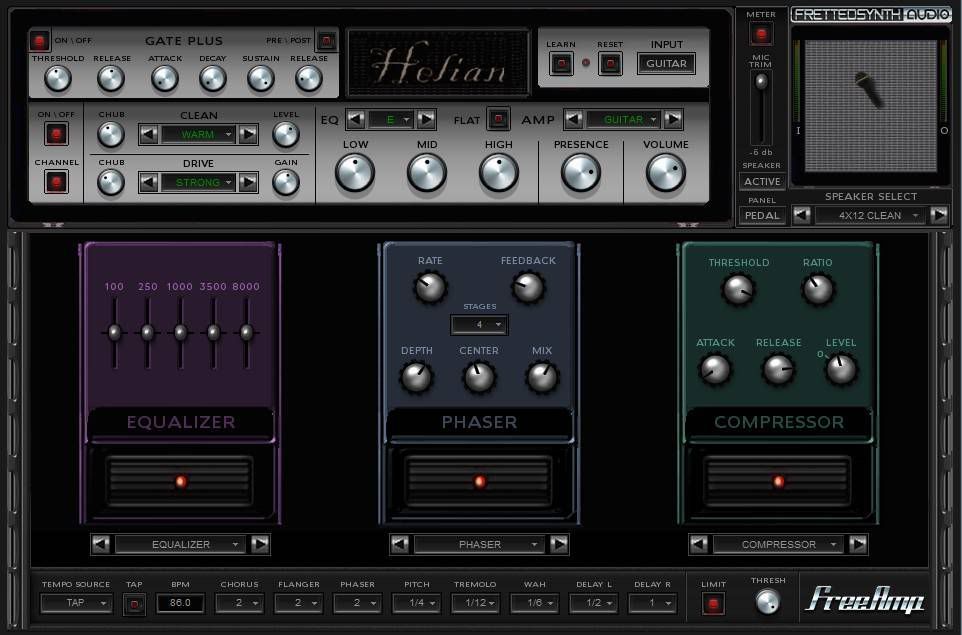 FreeAmp 3 is free software


____________________



But these are not!



Native Instruments Guitar Rig 3
costs $299
and
IK Multimedia Amplitube 2
sells for $399!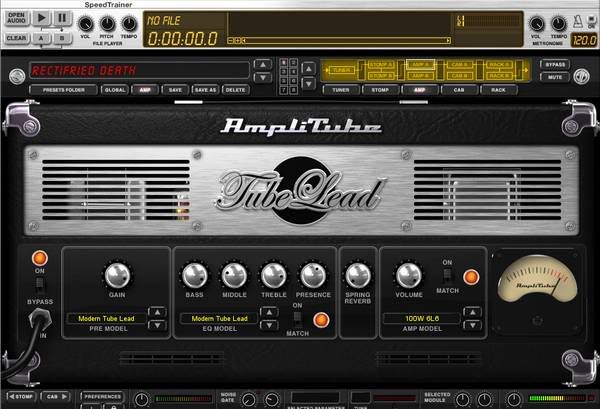 _________________________________________________
Please support free software developers:
send them thanks, custom patches
or settings, and songs recorded
using their software
(money helps too)