_________________________________________________________________
The Sequential Circuits Prophet 5 is a synthesizer that is consistently rated one of the very best ever made.
This excellent article
will tell you more about why it was so mind-blowing in it's historic context, and why
it is almost equally loved today.

I have created a table comparing some of the basic features of the original Prophet 5 with 3 current software clones. If you want to take a closer look at any of these, there are links below.


A few comments...

Don't let the lack of fake wood or a piano keyboard of a GUI affect your judgement, even though it subconsciously will to some degree. They have no actual function and don't affect the sound in any way!

Onboard effects are convenient, but not necessary to create a good sound, as you can easily add as many effects as you need after the synth. In fact, many times the included effects aren't as good as the best dedicated effects. It's not as convenient, but it will get you as good or better sounds in the end.

Sequential Circuits Prophet 5
Arturia Prophet V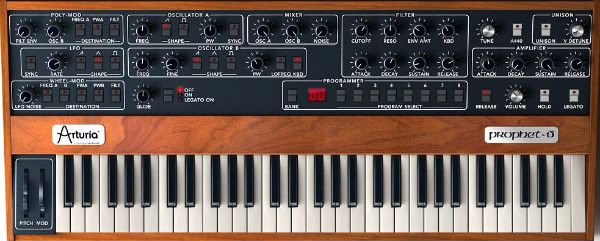 Native Instruments Pro-53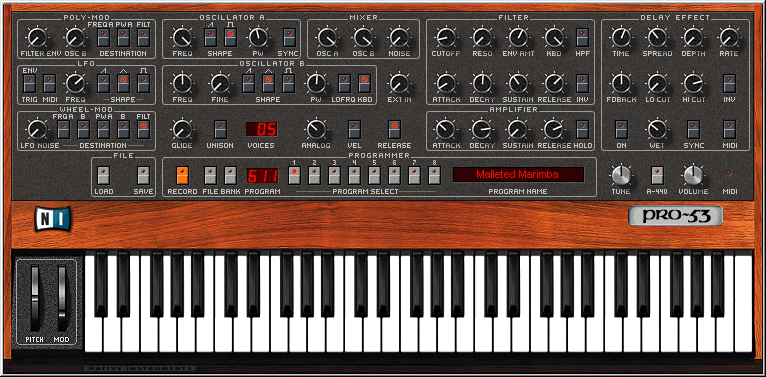 Roberson Audio Synthesizers Prophanity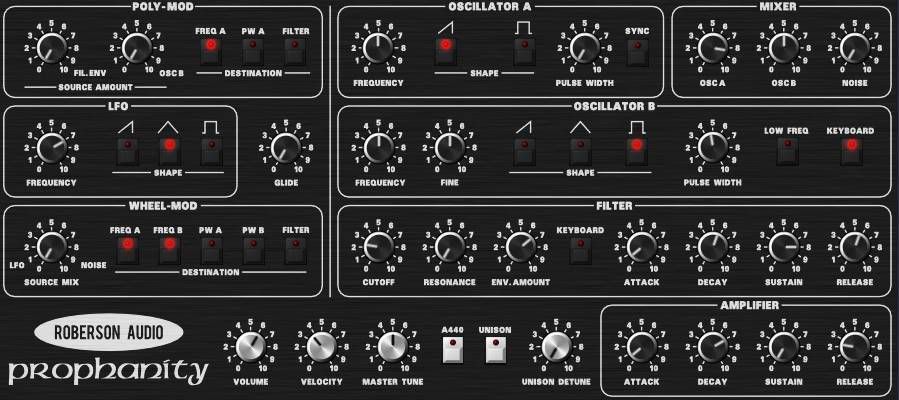 I guess faux wood doesn't serve a purpose anyway :-)



Sq. Circuits
Prophet 5


Arturia
Prophet-V


Native Inst.
Pro-53


Roberson
Prophanity


Price/Value:


$1,300


$249


$199


FREE!


Production:

1978-1984

2006 +

2002 +

2006 +


Polyphony:

5 Voices
32 + Unison


32


32 + Unison

Oscillators:

2 per voice
(square/pulse/tri/saw)
2 per voice
(square/noise/ tri, saw)


2 per voice
(A=saw/pulse. B=saw/tri/pulse)
2 per voice
(A=square/saw/
pulse/, B=square/saw/
tri/pulse) + noise
LFO's:


1 (pulse
width or pitch)
3 (with MIDI
sync)
1 (saw/square/pulse, MIDI sync, envelope triggering. Assignable to
oscillators, filter, etc)
1 with
saw/tri/square


Filters:


1 (24db Low
Pass w/ resonance)
1 (24db Low
Pass w/resonance)
2 (24db Low
Pass / high-pass filter w/ resonance, self-oscillation)
1 (24db Low
Pass w/ resonance)
VCA's:


1 ADSR
2 ADSR
envelopes and 3 five point envelopes
1 ADSR and
Hold function
1 ADSR


Effects:


None


Chorus,
Stereo Delay with MIDI Sync
Delay,
Multi-Echo, Chorus, Flange, MIDI-sync
none


Platform:


Hardware
(61-key)


PC, Mac


PC, Mac


PC


Format:



Analog

VST, DXi,
RTAS, AU, Standalone
VST, AU, RTAS


VST,
Standalone


Listen!


none yet


Web:


HTTP


HTTP


HTTP


HTTP