__________________________________________________________________________________________
SOUND LIBRARY
Platform: Mac, PC
Format: Standalone, VST, AU, RTAS
Price: FREE

__________________________________________________________________________________________

VST Discovery, where I share only the best free music & recording software, sometimes highlighting their commercial equivalents. This shows you how much money you could've spent to get the job done!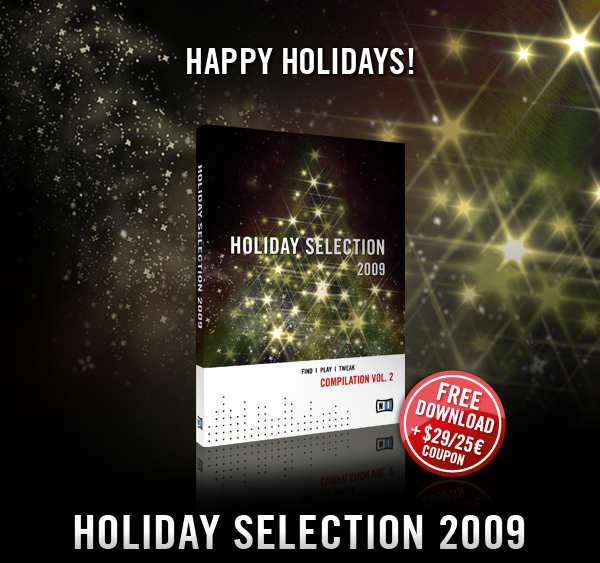 Just in time for my upcoming post about various top-quality FREE sound libraries comes Native Instruments KORE Holiday Selection 2009, a totally free and sonically stunning sound library for those who have either Kore 1, Kore 2, or the new free KORE Player. This new sound set has 45 Kore Sounds® with 360 Sound Variations, drawn from 12 different KORE and KONTAKT instruments.

The KORE Player is one of the many free sound libraries that I will be covering in a single, exhaustive post very soon. I have been getting all the details and downloads in place for quite a while now (some are no longer available from the original sites). The information will undoubtedly be worth the wait and should be an excellent resource for newbies and old-timers alike for a long time to come. After all, who would want to pass up multiple gigabytes of top-shelf sounds, all waiting to find a home in your studio!

For now, however, jump on this free Native Instruments offering while it is still around! I get the feeling it could go away after Christmas (or the first of the year at the latest) due to the title being the KORE Holiday Selection 2009! If you don't already own the free KORE Player, head on over to the Native Instruments website and grab it now! Registration is required and they do send you emails occasionally (opt-out is easy), but I never would have known about this release if it weren't for their email updates, so I actually appreciate receiving them.


From Native Instruments website:
Native Instruments is happy to present to you a free instrument made up of premium sounds from our KORE / KONTAKT instruments. HOLIDAY SELECTION 2009 is a full-featured production-ready sound library that includes 45 Kore Sounds® with 360 Sound Variations, drawn from 12 different KORE / KONTAKT instruments. From classic sampled instruments to futuristic soundscapes and poly-effects, HOLIDAY SELECTION 2009 brings together the cream of this celebrated and diverse range.


For use with the free KORE PLAYER:
No previous product ownership is required to use this instrument – simply download both the free KORE PLAYER and HOLIDAY SELECTION 2009 for free, and get started!





(Note: The free KORE PLAYER is needed to play these sounds)



SOUNDS TAKEN FROM THESE INSTRUMENTS:


'57 DRAWBAR ORGAN
- The legendary 1957 Hammond™ C3 drawbar organ

| | |
| --- | --- |
| Number of KORE / KONTAKT Sounds® : | 45 instruments and multi-effects sounds with 360 Sound Variations |
| Sound Categories: | As diverse as the KORE / KONTAKT instrument range |
| KORE 2 integrated engines utilized: | ABSYNTH, FM8, GUITAR RIG, KONTAKT, MASSIVE*, REAKTOR, KORE 2 effects |
| Download size (Mac/PC): | 553 MB / 466 MB |
| System requirements: | Free KORE PLAYER or KORE 2 |
| User manual: | Download Manual |